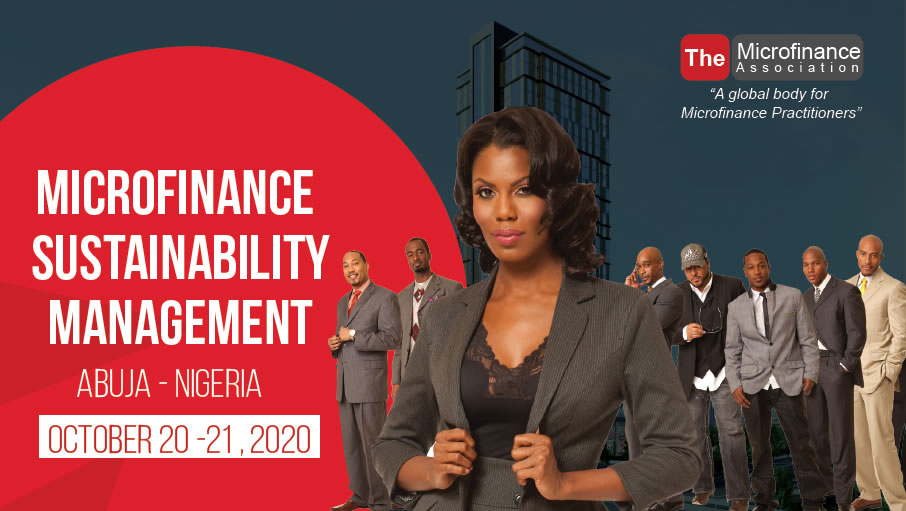 Date
20 Oct 2020
- 21 Oct 2020
Expired!
Microfinance Sustainability Management Abuja Nigeria
About this course
The Microfinance Association "Microfinance Sustainability Management" short course provides you with a working knowledge of the social, economic and sustainability challenges that your institution has to face post – covid 19. Post Covid -19, we need to turn challenges into a competitive advantage by gaining the knowledge and tools needed to effectively respond to these challenges in a timely manner – and drive impactful change.
What the course covers
The Microfinance Sustainability Management course is centred on the notion that sustainability is integral to ensuring that a microfinance institution can continue to operate in a world where there are finite resources. It is also important that these institutions are able to deliver benefits to both shareholders and the communities.
Who is the course for?
You are seeking the tools to effectively argue the
business case for sustainability and value of strong leadership You need a practical action plan for overcoming barriers and seizing the opportunities associated with creating a sustainable business with key stakeholders and partnerships post covid 19 You would benefit from engaging with a cohort of like-minded colleagues. You are needing powerful proof of your competencies and expertise in microfinance sustainability management by earning a certificate of completion.
Earn a certificate of completion
Upon successful completion of the course, you will earn a certificate of completion.hat you will learn
How you'll learn
Every course is broken down into manageable, weekly modules, designed to accelerate your learning process through diverse learning activities.
Faculty
Our programmes are developed and delivered by an international faculty; we use a participatory
approach in the way that we deliver our programmes. We also facilitate discussions using well and tested case studies.
Fees, expenses
• The cost of the programme is 100,000 Naira per delegate.
• Discounts for two or more delegates from the same organization
What you will learn
Module 1 Re-thinking Strategic Leadership and
Management – Post Covid 19
Module 2 Management Values and Sustainability issues
Module 3 A new approach to Branch Management and
Workplace Rules Post Covid 19
Module 4 Product Development and Delivery
Module 5 Delinquency Management – Post Covid-19
Module 6: Managing Risks – Post Covid 19
Module 7 Create a personalised sustainability action plan
Module 8 Revamping your business approach – Post Covid 19